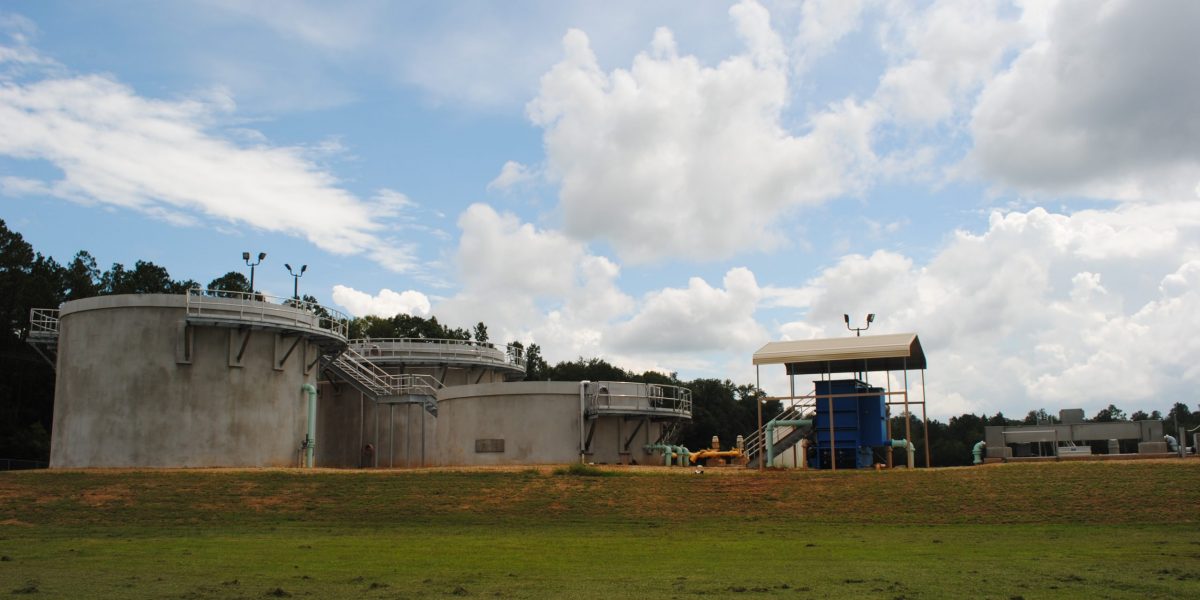 Chatom Wastewater Treatment Facility Improvements
Chatom Utilities, AL
Chatom, Alabama is the county seat of Washington County, in southwest Alabama. Chatom Utilities serves over 600 customers in the Town. Chatom was having problems with their aerated lagoon and sprayfield wastewater disposal system. Problems included sprayfield runoff, high total suspended solids due to algae growth, and high sprayfield operating costs. Chatom Utilities chose Constantine Engineering professionals to address their treatment problems and provide a solution.  Several options for treatment were evaluated. Based upon capital costs, operation, maintenance and effluent quality, a Sequencing Batch Reactor (SBR) Activated Sludge (AS) treatment process was chosen for their treatment needs. In this system, wastewater is added to a single batch reactor, treated to remove undesirable components, and then discharged. Equalization, aeration, and clarification is all achieved using the single reactor. The installation of two batch reactors allow the process to continue, uninterrupted in sequence.
In addition, Chatom is utilizing their existing lagoon as a sludge storage basin and a peak storage pond that can equalize approximately 5 million gallons of peak flow. The disposal system  also includes an ultraviolet disinfection system and a new operations building, including laboratory and electrical/control room. This $2 million project was funded by a bond issue and with federal funds provided through the State of Alabama, including a Community Developing Block Grant (CDBG) and a Delta Regional Authority grant. Constantine Engineering professionals were responsible for completing preliminary design tasks, assembling a design team of in-house personnel and sub-consultants, preparing the design documents, conducting the bid phase tasks, providing construction management, providing onsite construction observation, administering the project funds, and managing warranty period issues.