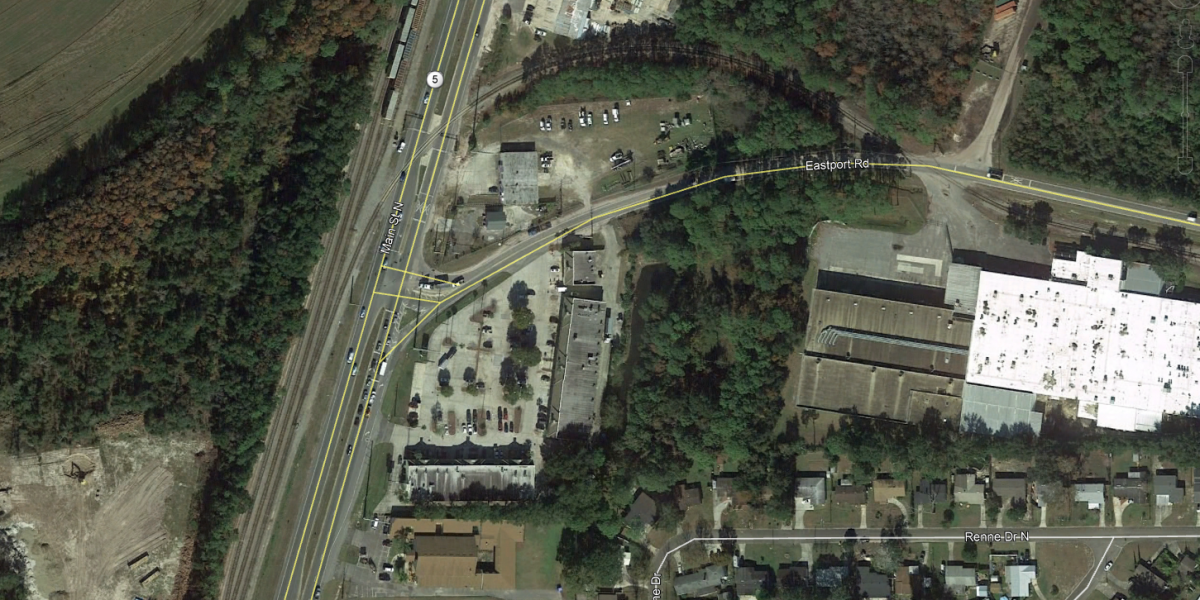 Main Street Force Main Extension
JEA, Jacksonville, FL
Constantine Engineering was contracted to provide JEA with preliminary design, final detailed design, permitting and estimating services for the Main Street – Sara Drive to Noah Road – Force Main.
The project replaced an existing 16" ductile iron main that had reached the end of its service life, to reduce the possibility future main breakage which could result in costly spillage of raw wastewater into the environment.  Design requirements established by the JEA Planning Department stated the new force main would need to accommodate projected flows estimated at 1.152 MGD average daily flow (ADF) (800 gpm) with a peaking factor of 2.9 and a peak hourly flow (PHF) of 2300 gpm.
The design included installation of a new 3,300 LF section of 16-inch PVC and HDPE force main. This new main allowed existing sewer flows coming from the Renne Pump Station (PS) to be conveyed into a previously installed 20" PVC force main along Noah Road.  This project allowed JEA to abandon and remove from service the aging 16-inch ductile iron force section from Sara Drive to Cedar Bay Road.
The new force main extends along the eastern side of Main Street north from Sara Drive to the JEA transmission station property at the west end of Noah Road. Along this corridor there were multiple challenges, including jack & bore steel casing crossing under a CSX Railway single rail spur and signalized traffic intersection; numerous parallel and perpendicular primary AT&T fiber optic duct banks; limited right-of way; and multiple business driveway access crossings. Other utilities existing within the corridor include a 24-inch gravity sewer main located along the western side of the Main Street right-of-way line and along the eastern side of Main Street right-of-way line is a 16-inch water main.
During the construction phase, conflicts discovered with unknown and unidentified AT&T fiber duct banks would have require relocation of main into the travel lane of Main Street. However, Constantine was able to design and obtain a revised CSX permit to install an uncased HDPE section under these crossings by the horizontal directions drill method (HDD).  This allowed the force main route to remain as originally designed and avoid additional cost associated with traffic controls and roadway restoration.
Multiple permits were needed to for this project: a right of way permit and a utilities permit was obtained for the CSX railway crossing, as well as, FDOT, FDEP, and City of Jacksonville permits. Permitting was done in two phases – preliminary permitting communicated the proposed pipeline with the stated agencies in case the FDOT had future plans for these intersections, Sara Dr. and Main St. or Eastport Rd. and Main St., or the roadway, Main St., so changes to the route could be made without causing delay to the original design schedule.