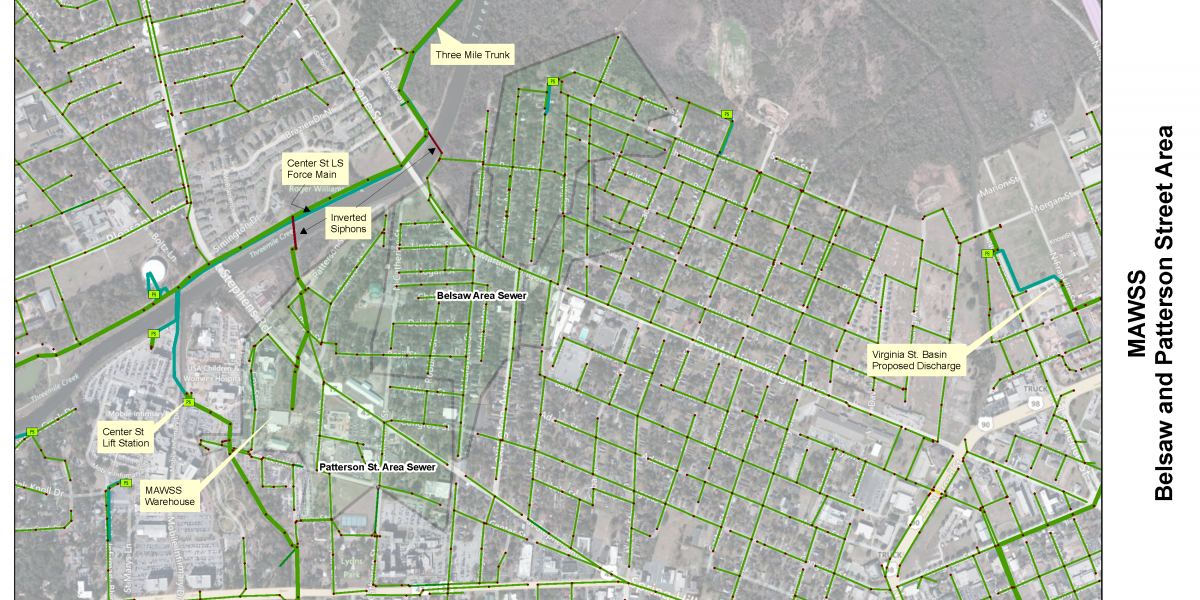 Belsaw/Patterson Sewer System Evaluation and Model


Mobile Area Water & Sewer System, AL
Mobile Area Water and Sewer System (MAWSS) contracted with Constantine Engineering to analyze the sanitary sewer system in the vicinity of Belsaw Avenue to determine the root cause of overflows in the area.  Reviewing the GIS information, past rehabilitation efforts, and flow monitoring data, Constantine determined that the source of the performance issues was due to a hydraulic constriction caused by a downstream inverted siphon.  Constantine recommended eliminating this inverted siphon along with another nearby inverted siphon off Patterson Street and installing a new lift station to convey flows from these areas.
In a follow-up to the original study, Constantine conducted a feasibility study for the proposed lift station to evaluate site options and to determine the best discharge location for the lift station force main.  For this study, Constantine compared site options based upon estimated construction costs, accessibility, permitting issues and other criteria.  Constantine also analyzed flow scattergraphs and hydrographs from the MAWSS flow monitoring network to identify the available capacity of two nearby large diameter trunk sewers in order to determine the optimum location for the new lift station force main discharge.  At the conclusion of the study, Constantine provided MAWSS with a scope, schedule, and budget for the new lift station based upon the recommendations for the lift station site and force main discharge location.